We are so lucky that

Marj Marion

is part of the Art 'n Soul family. Her talents are many and envied by all . . . you will want to come by the store this Saturday to see Marj!
Are you curious about the new Pan Pastels that we've been raving about?
Perhaps you're still thinking about purchasing some of the Pan Pastels.
Perhaps you bought some and would like to see additional ways to use them?

Susie, Debbie, Sue, Deb, Marj & Alissa invite you to an
on Saturday, January 15, from 10:30 - 4:30
Stop in when it's convenient for you, and add a little (or a lot of ) art to your day!
see all of the b

eautiful colors

obtain info on storage options

make a little tag using this beautiful art medium
If you have already made some beautiful projects with the Pan Pastels,
please bring
them along to share.
We're always delighted to see the talented work of our customers.
From

Webster's Pages

, another sneak peek of another paper collection designed for Mother's Day & Father's Day use.
I really like the puppies!
From

Graphic 45

:
Sneak Peek Splendor: New Cling Stamps From

Graphic 45

& Hampton Art
Hello Lovely Crafters:
(from

Graphic 45

Blog on January 12, 2011 -- NEW CLING STAMPS FROM

GRAPHIC 45

& HAMPTON ART)
The fun continues today as we unveil more sensational products from our brand new paper collections Le Cirque, Curtain Call, and Once Upon A Springtime. Today we're premiering the brand new cling stamp collaboration with
Hampton Art
! Le Cirque, Curtain Call and
Once Upon A Springtime
are the three latest and greatest collections from Graphic 45! Now these gorgeous vintage images can be yours in cling stamp form! The new
Hampton Art
cling stamp collection incorporates images from all three of our newest collections. These beautiful stamps will be premiering at CHA and are a must-have for your next craft project! Look for them very soon anywhere
Hampton Art
stamps are sold! Also, don't forget to leave a comment on Monday's blog for your chance to win this week's fabulous blog prize. Tell us what you would make if you had our new Le Cirque collection in your hands right now! The winner will be announced Friday so stay tuned! Okay, let's get this show on the road! Behold the brand new cling stamps inspired by our gorgeous new collections!
Spellbinders

' Sneak Peek of another new die:
From Design Team Member Becca Feeken, Amazing Paper Grace blog, introduces the Parisian Motifs and Parisian Accents dies that

Spellbinders

will introduce at CHA:

I'm thrilled to share two die template sets with you – S5-034 Parisian Accents and S5-035 Parisian Motifs. For my first project I've created a card with a separate jacket. The largest template of the S5-035 Parisian Motif set graces the front of the jacket. The frilly motif serves as the focal point of the jacket and by cutting out the center using S4-116 Standard Circles SM (#2). I'm able to simply interlock the largest template of the S5-034 Parisian Accents set for a matching look that is both elegant and lacey. There are so many options with the motif and accent sets that I can see myself doing a bit of interlinking and building different shapes.

Here you can see the enclosure card that fits inside the jacket. It's a big card measuring 5.5″ x 7.5″. As decoration I used the border from S5-034 Parisian Accents, which at 9 inches in length more than accommodates my tall card. For the frilly medallion on the card I used four of the corner piece elements found in S5-034 Parisian Accents.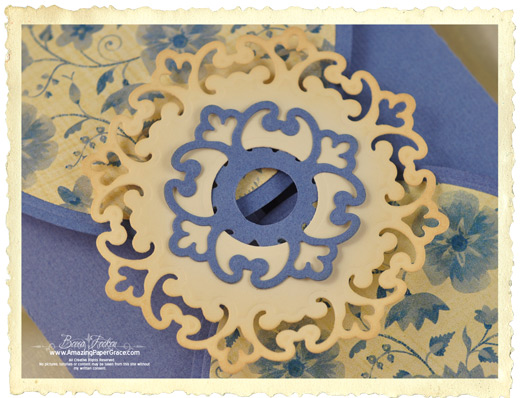 The card has an simple closure – the ribbon that wraps around the back of the card comes through the center hole to be tied in a bow which secures everything inside.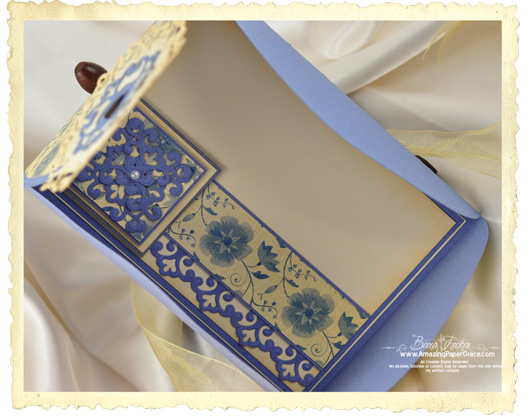 The jacket features a four flap closure made using LF-110 Grand Ovals. The jacket is designed to be flat however scoring the flaps a little bit differently will yield a jacket that can accommodate a thick card or two.
SUPPLIES I USED:
Stamps: None
Paper: Bazzill, K and Company
Ink : Antique Linen Distress Ink
Accessories:
Spellbinders™ S5-034 Parisian Accents
,
Spellbinders™ S5-035 Parisian Motifs
,
Spellbinders™ LF-110 Grand Ovals
, Ribbon
For my next project I designed a Mothers Day gift that has a bit of a vintage flavor. The goodie bag, made using LF-161 Grand Labels One, is embellished with a frilly flower medallion. To accompany the bag, there is a feminine nosegay. Both the base of the nosegay and the base of the medallion are the same, I simply changed the uppermost layer to give each some charm.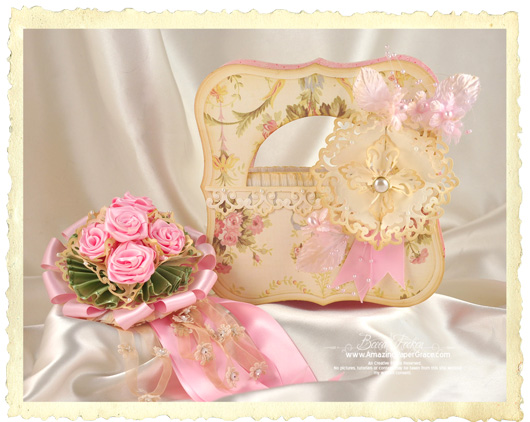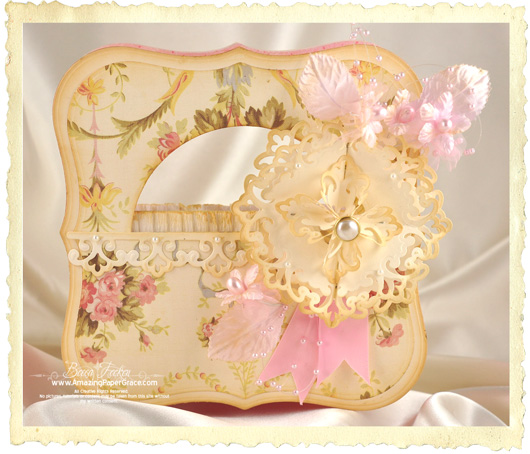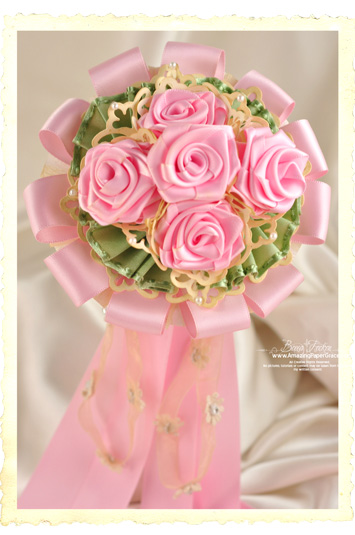 The nosegay has five twirled pink roses with long ribbon tails that are threaded through each layer of the holder. It is made using the same base as the medallion but both pieces look entirely different, lol!
SUPPLIES I USED:
Stamps: None
Paper: The Paper Company, Anna Griffin
Ink : Antique Linen Distress Ink
Accessories :
Spellbinders™ S5-034 Parisian Accents, Spellbinders™ S5-035 Parisian Motifs, Spellbinders™ LF-161 Grand Labels One, pearls, lace, crepe paper, flower pick
I'm going to take you though how to make the dimensional lacey flower medallion that serves as the base for both the flower on the bag and for the nosegay.
These are the Spellbinders products I introduced:

Parisian Accents
SKU# S5-034
MSRP $24.99
Measurements:
1: 1¼ x 7/8″
2: ¾ x 2½"
3: 1¾ x 1¼"
4: 1¾ x 1¼"
5: 2½ x 2½"
6: 1¾ x 3 1/8″
7: 7/8 x 9″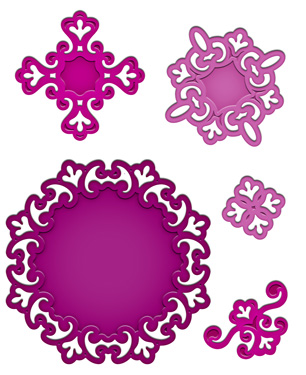 Parisian Motifs
SKU# S5-035
MSRP $24.99
Measurements:
1: 1 x 1″

2: 1¼ x 1¼"

3: 2½"
4: 2½"
5: 4 1/8″
Your feedback is always welcome. If you see something you especially like, please let us know . . . even if it's not something we've shown on the blog. We are not able to order everything we see and we might otherwise miss something you'd like to see offered at Art 'n Soul.
Art 'n Soul is your friend and ally in the
world of art by having available the materials, mediums and t
ools that we hope will be consistent with our
niche and personalized artistic style, and
the artistic endeavors you want to follow!