This is so genius! . . . at least I think so. Becca Feeken has come up with what I think is the best way to store and re-use your distress blending pads. So often, I throw them away because I don't want to just throw them in a box and not know what color was used; and I don't want to cross-contaminate the various colors by using the wrong one because I guessed the color incorrectly. I'm also thinking this would be an excellent way to store the InkBlushers for
IMAGINE Crafts
, because I have the same concerns there to. This system would allow me to re-use the applicators more often and reduce waste.
Here is the link to Becca's posting so you, too, might think about how to better organize and re-use those foam ink applicators!
From
Memory Box
, a card from their Idea Gallery using the Butterfly Vine Stencil, along with a Butterfly Die. Note they use Gold Mirrir Cardstock for the butterfly body.
by Memory Box
Dies:
Stencils:
Stamps:
Paper:
25NC-WISTERIA
ENV-WISTERIA
Other Supplies
ColorBox Archival Dye Inkpads - Mermaid, Tree Frog, Grape Slushy, Frosted Plum
Glossy White Cardstock
Gold Mirror Cardstock
Kiwi Vellum
Diecut Machine and Plates
Light Green Sequins
Scor-Tape
Stencil Butterfly Vine onto glossy white cardstock with Mermaid, Tree Frog, Grape Slushy and Frosted Plum. Trim it to 2-⅞" x 4" and attach it to a Wisteria Notecard. Attach Scor-Tape to gold mirror cardstock and diecut the antennae. Attach the vellum butterfly using the adhesive on the antennae. Attach the sequins. Coordinate with matching Wisteria Envelope.
Also from
Memory Box
, this beautiful butterfly card using an older butterfly die and floral stencil is made by a teacher at a store in California.
by Kristin, The Stamp Addict Store in San Diego
The countdown is on for
Art 'n Soul's 11th Birthday Party on Sunday between 1:00 and 4:00 p.m.
You don't want to miss it! Four (4) fabulous demo's . . .
John Creighton Petersen

--

IMAGINE Crafts/Tsukineko

Sandy Jackson

--

Hasty Lace & Some-Assembly-Required

Maggie Crawford

with Millsrepco --

Elizabeth Craft Designs'

Microfine Silk Glitters

Helene Metivier

--

Magenta
Open catalog companies . . .
Impression Obsession
Memory Box
Elizabeth Craft Designs
Magenta
Select a balloon and discover what discount percentage you'll enjoy for your entire purchase during the Birthday Party! Indulge in the best mini-cupcakes in Washington State that we always bring in for our parties. See new releases from Magenta, Memory Box, Dreamweaver Stencils, Graphic 45, Webster's Pages, My Mind's Eye. See the order from Stampscapes! Enjoy the visually artistic treat that Tamara Hyde will share as Art 'n Soul's new Artist-of-the-Month. Not only will Tamara share her artistic work, she'll also demo a work-in-progress.
In today's economy, it is one tough challenge for locally owned, independent small craft stores to remain open. Art 'n Soul has done it for 11 years . . . count 'em . . . eleven years! We're here because of our very loyal customers and the special niche we serve in the entire state of Washington. Our customers come from as far north as Everett, Bremerton, Port Angeles, Seattle, Issaquah; as far south as Eugene OR. and as far west as the Pacific Ocean . . . and from other far-away spots as well. Our core customers come from the greater Olympia/Lacey/Tumwater community, as well as Tacoma, Seattle, Kitsap Peninsula, Issaquah, southwest Washington and the Grays Harbor area. We're very proud of our artistic reach! and the superbly talented staff that make up Art 'n Soul!
Need we say more, other than "we're looking forward to seeing you" this Sunday afternoon. The weather is going to be perfect and it's going to be one fabulous time!
From Kristen Powers with
RubberMoon Stamps
. . .
From Kae Pea's Etsy Store:
"Ebb and Flow....
an exploration of water media

on line interactive workshop with Kae Pea

A workshop for ALL levels!
If you are a beginner, you CAN do this (I promise)!
If you are intermediate or more advanced, you WILL learn something new and have fun!

What the workshop is about :
This course will be an artful exploration of supplies and techniques but also of our own creative habits and patterns. We will use a wide variety of water media including; watercolor pans and tubes, radiant concentrates, water soluable pencils and crayons, acrylic inks and high flow acrylics. I will share with you all that I know about these different mediums and together we will make some wonderful art. Beyond that we will also explore the push and pull of art making. What to do when you feel your creativity ebbing and how to get back into the flow.

Class premiers Monday September 15th and new content and video instruction will be added every Monday through October 13th 2014. The course will remain open for one full year.

What you receive upon signing up:
A welcome note in the form of a download upon payment.

What you receive just prior to class start date:
A link to my private blog and 5 weeks of detailed video instruction and blog content.
Access to a private Facebook page where we will interact and share questions, art and ideas
(participation is optional. If you choose not to participate, I will be glad to work with you through email for feedback etc.)

You will have access to all materials through October 2015.

---->Supplies:
I have decided not to provide a detailed supply list.
It is my thought that you do not need to run out and buy a lot of materials. Watching the videos and demonstrations before you buy a bunch of stuff is my recommendation. With the basic items listed here you will be able to create along with me. Then if you decide you love what I am using, you can purchase it and make some more art!
----> Must haves: There are only 4 basic items that you must have....
Watercolor paper (140 lb. recommended)
Paintbrushes (suitable for watercolor)
Watercolor paints
Micron or Pitt pens

I will provide a photo of supplies and links to everything I use on the class blog following the videos.

The workshop will begin on Monday Sept 15th, 2014 and a new video and content will be posted every Monday for 5 weeks. Access to the class will remain open through October 15, 2015.

There will be five lessons (some weeks may have multiple videos) :
Video 1 - Monday Sep 15. materials share and masking and saved whites
Video 2 - Monday Sep 22. abstracts with acrylic washes
Video 3 - Monday Sep 29. radiant concentrates and feather illustration
Video 4 - Monday Oct 6. layering watercolors and whimsical portraits
Video 5 - Monday Oct 13. more layering watercolors and whimsical portraits

If you have any questions please do not hesitate to email me or convo me here or message me through Facebook. Please make sure to read all the information before purchasing the class.
Thank you!

***IMPORTANT***
When you sign up and pay, PLEASE make sure I have your primary email address!!
No refunds on workshops.Thank you for understanding.

*the price of $57.00 will be offered as a pre-registration price for the first 25 students after the first 25 the price goes up to $68.00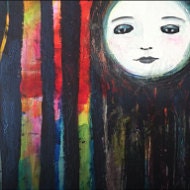 Time for some shut-eye. Tomorrow's another big day at Art 'n Soul. Agi Werner is teaching two classes featuring Paper Parachute papers and stamps; her precision is unyielding and yields the most beautiful cards and paper crafting projects.
look familiar?
"I may be big but I'm still a baby!"
We're all big babies, aren't we?