Timing is everything, right? This morning, we discovered
Impression Obsession
has just released their newest and latest stamp images . . . the day after our Christmas Party! The 'pink sheet' orders are already being written. Take a look . . .
Most of the word stamps are 'timeless' and very current to use, especially in journals. I'm working up my order now!
There are still a couple of spots to fill in John Petersen's class this Saturday. A technique-filled session that John taught while he was in the New York City/Boston areas last week. The class is $30 and starts at 12 noon and ends at 4:00 p.m. Please call the store for more details and to sign up if you're unable to make it into the store . . . 360.357.6820!
Another round of holiday card samples from the Christmas Party on Sunday . . .
by Marj Marion
Impression Obsession Pine Trees Cover-a-Card Stamp 101
Penny Black "Noel" Stamp 3242E
Judikins Pine Twinkle Embossing Powder
by Dianne Johnson
Impression Obsession Snowman with Bird Stamp G7682
Impression Obsession Be Delighted Stamp B8764
Graphic 45 Nutcracker Sweet Paper Collection - Snowflake Waltz B Side
SEI Berry Melody Paper Collection - Twinkling Chirp 8-7502
Copic Markers: B14, B16, B18, B000, C0, C1, R32, R35,
R37, R56, Y35, Y38, E13, E15, E33, E35, E37
Hero Hues Pearls & Gems - Sea Mixed
Stardust Stickles
Spellbinders Classic Circles Large
Spellbinders Lacey Circles
Frosty Candi
by Deb Kuttel
Impression Obsession Tapestry Ornament Stamp E8824
Gold Detail & Cherry Twinkle Embossing Powders
Candis
Spellbinders Embossing Folder
by Susie Tracy
From the
Tombow
blog . . .
Corner Bookmarks by Debbie Fisher
"Today I have a fun and easy and "green" project to share with you. This corner bookmark is made from recycling all those envelopes you get in the mail.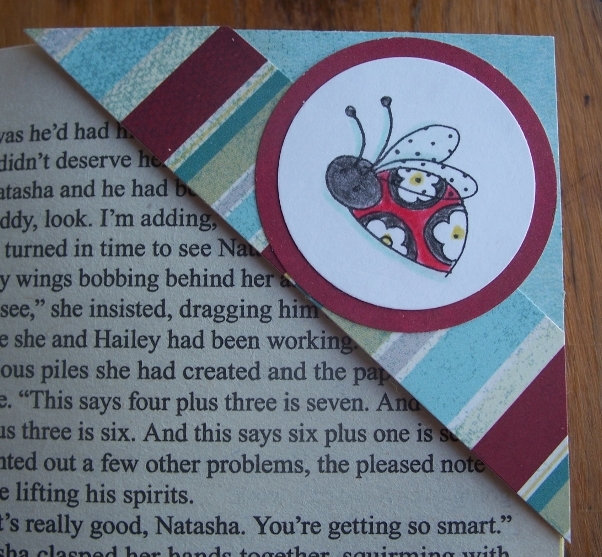 I cut the corners (mine measured 2″ from each corner) and then covered with designer papers (a great way to use up those scraps) and a stamped image.
Here I covered the front of the envelope corner (back is covered also for added strength) with Mono Adhesive Permanent.

Added a 1/2″ strip for contrast.

I colored a stamped image with Irojiten Pencils, punched with a circle paper punch, layered onto coordinating paper and adhered with Mono Adhesive Permanent.
To use, open envelope corner and insert on the page you are on in your book to keep your place for you. These are so fun and easy to make and a great project to do with your children.

I hope you like this project and will give it a try. If you do, be sure to post a link to your creation in the comment box.
Thank you for stopping by,"

Play Day is this Friday from 10:30 a.m. to 4:30 p.m. You're invited to bring your supplies and project(s) and play away at Art 'n Soul with the company of others any time between those hours. As it should be, there is no charge for a fun day!


That's all for tonight. I keep thinking it is Saturday, so I think it is best that I turn in for the night and, in the morning, dream my way back to Wednesday.